Volkswagon 18.310 OT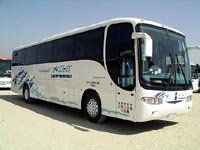 Note: You are free to adopt any text or photograph for non-moneymaking activities. You may set the photographs as the wallpaper in your PC. However, you are not allowed to post the text or photographs on the net without Anthony Lui's prior permission.
The 18.310 OT is a tour bus chassis.
Specifications (interurban bus):
Chassis type: 18.310 OT
Chassis configuration: rear engine conventional driveline
Length: supplied in buggy chassis at 8517mm
Width: 2411mm
Front overhang: 2300mm
Rear overhang: 3217mm
Wheelbase: varies
1st axle type: Mentor FC845
1st axle weight: 6500kg
2nd axle type: Mentor RS-23-160
2nd axle weight: 11500kg
Gross vehicle weight: 18000kg
Engine type: Cummins 6CTAA
Engine capacity: 8.270 litres
Maximum power: 223kW @ 2200rpm
Maximum torque: 1192Nm @ 1500rpm
Transmission type: Eaton FSO 8406A 6-speed manual
1st gear ratio: 7.05:1
2nd gear ratio: 4.13:1
3rd gear ratio: 2.52:1
4th gear ratio: 1.60:1
5th gear ratio: 1.00:1
6th gear ratio: 0.78:1
Reverse gear ratio: 6.75:1
Optional transmission type: ZF 5HP590 Automatic
1st gear ratio: 3.43:1
2nd gear ratio: 2.01:1
3rd gear ratio: 1.42:1
4th gear ratio: 1.00:1
5th gear ratio: 0.83:1
Reverse gear ratio: 4.84:1
Tire size: 295/80 x 22.5
Suspension type: air suspension with stabilizer, hydraulic double acting telescopic shock absorber
Return to Volkswagon
Page created: 22 May 2005