AEC Reliance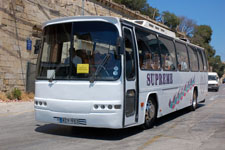 Note: You are free to adopt any text or photograph for non-moneymaking activities. You may set the photographs as the wallpaper in your PC. However, you are not allowed to post the text or photographs on the net without Anthony Lui's prior permission.
The Reliance was a single-deck bus chassis with mid-underfloor-mounted engine. It was a long-lived model. The first two prototypes were built in 1953. Production was started in 1954 and the last bus was built in 1979 and entered service in 1981.
Various AEC engines and transmissions were fitted to the bus.
The Reliance competed with Leyland Tiger Cub, Leyland Leopard and later Volvo B58 during its production.
Return to Associated Equipment Company
Page created: 25 September 2011